Volunteer
Want to help change the life of a parent and their very young child? You're not alone. Join the YPN volunteer team and start to make a difference. YPN and the families we work with everyday need YOU!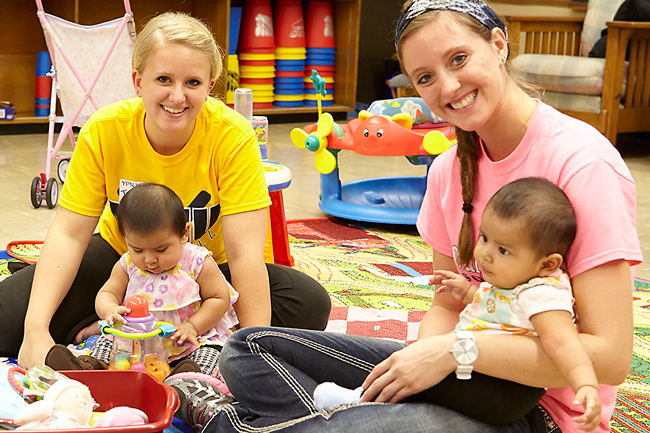 Become a YPN volunteer
To be eligible to become a YPN volunteer, an individual must be 16 years or older to volunteer unsupervised or 10-15 years old to volunteer with guardian supervision and complete all necessary paperwork.
Required for eligibility
Complete a background check in accordance to the Code of Iowa

Agree to uphold the confidentiality of our participants

Commit to an established amount of time

Have a genuine interest in YPN and our mission
Group Night
As we continue to expand our prenatal and parenting groups, we need some additional volunteers to assist with meals, setup/cleanup and childcare. We currently need assistance between 5:00-7:30pm:
Provide on-site childcare for children 0-5 years of age

Facilitate prenatal, moms, dads, or Hispanic group discussions

Prepare and/or facilitate parent/child activities
We Care Shop
Want to interact with our awesome YPN donors and participants? In just a couple hours per week you can make a big impact. Here are some of the volunteer roles in the We Care Shop include:
Accept and sort donations

Help participants shop for items

Assist participants with checkout
Driving & Clerical Opportunities
YPN has a contract with the Iowa Department of Human Services to provide volunteers to perform different tasks for the department. We are currently in search of individuals that can volunteer their time to help with Transportation for supervised visits at Linn County Family Visitation Center using a STATE CAR and may aid with clerical tasks in Linn County DHS office during the visit (filing tasks, shredding, assembly of support packets). If you like to go the extra mile, these are the shifts: Tuesday 9am–1pm Wednesday 1–5pm Thursday 9am–1pm Friday 12–4pm
Compile papers and staple, DHS packets

Driver for supervised visits at Linn County Family Visitation Center

(Must be 18 or older and have a valid driver's license)
Eastern Iowa Diaper Bank
Support families who engage in healthy behaviors. Parents who participate in YPN programs, Eastern Iowa Health Center prenatal and well-child visits, and HACAP/WIC well-child programs earn points for diapers & wipes. The Diaper Bank is open to distribute diapers through our drive-up model on Mondays from 1:00-5:30pm, Thursdays 9:00am-12:00pm, and the last Wednesday of each month 3:30-5:30pm. Some of the volunteer roles in the Eastern Iowa Diaper Bank include:
Sort & bag diapers into packs of 50

(can be done on or off-site)

Assist during diaper bank drive-up distribution hours

Assist YPN staff with inventory & other duties to maintain flow
Ready to join us?
Fill out the form above or download the pdf and fill out digitally (save, and email) and YPN will contact you about our volunteering opportunities.
If you have any questions about volunteer opportunities, please contact Heike Wagner at 319-364-8909 or email Heike.