Donate to our We Care Shop
The YPN We Care Shop is an incentive project that allows families to earn points in a variety of ways; attending group meetings, going to prenatal visits, receiving their high school diploma or GED, getting their child immunized on schedule, accessing counseling, and many other healthy behavior choices for themselves and their families. The points are then taken to the YPN We Care Shop and used to purchase much-needed items for their families.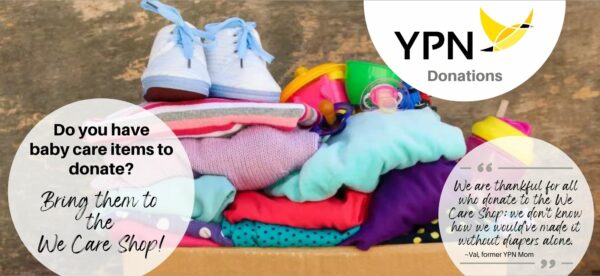 Every donation counts
All of the items on the shelves in the YPN We Care Shop come from generous individuals within our community. YPN has created an incentive model that allows parents to learn and earn, having access to baby care items, and helping them save funds in their budget for things like rent and utilities. Your donation allows YPN to provide this service, together, we Support, Educate and Empower families in our community!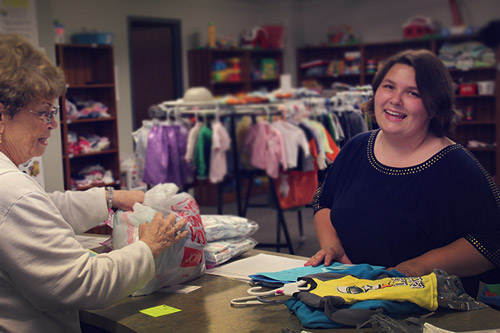 "We we're able to meet other parents going through similar things by joining YPN group and the support is so helpful; without the We Care Shop, diapers and wipes alone would have been a huge financial burden. The kids love the toys, too."
~Val & Jeremy, YPN Mom & Dad
How to donate
Donors can drop off items at the YPN We Care Shop at 420 6th Street SE, Suite #180 (in the Sister Mary Lawrence Community Center) in Cedar Rapids, IA. Donation hours are Monday-Friday 8am – 4pm. Please pull around to rear of the building – look for the door with the white awning. Each donor will receive a receipt as a record for their taxes.
Common needs for the families we serve include
Diapers/wipes/diaper bags

Baby care products/baby food/baby formula

Bassinets/crib sheets/toddler bedding/pack n play

Children's clothing/coats/shoes – newborn to size 5t

Children's books and toys/puzzles/activity table

High chairs/strollers/baby swing/bouncers

Breast pumps/boppy pillows/blankets
Items we are unable to accept:
Stuffed animals/bike helmets/life jackets

Walkers with wheels/large play sets

Medela brand breast pumps
Take a tour of the We Care Shop