CAREERS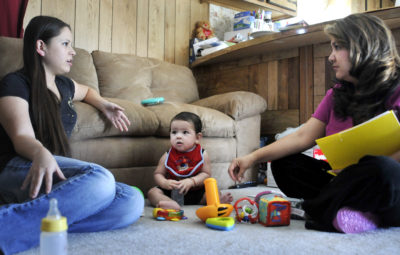 TITLE: Parents As Teachers (PAT) Parent Educator
POSITION DESCRIPTION: The PAT Parent Educator position is responsible for the delivery of home visits that support the mission of YPN and the Linn County ECI Grant
REPORTS TO: PAT Program Manager
ESSENTIAL DUTIES AND RESPONSIBILITIES:
Home Visitation
Facilitate with fidelity the Parents As Teachers curriculum. Attend PAT training and webinars, maintain certification, and adhere to all guidelines at determined by PAT National.
Collects and report on required information on program participants through the intake process, home visitation notes, direct reports, and other interaction.
Adhere to best practice guidelines regarding intake process, home visitation notes, safety in the home, cultural competence, and so on.
Attend YPN Home Visitation Staff Meetings and individual meetings as determined by your supervisor.
Encourage families to maintain high levels of medical health through support, education, and referral
Work with staff to develop and/or partner with YPN core programming to prevent social isolation of families. This includes offering quarterly events for families to attend.
Maintain a caseload of 20 to 22 families in addition to other duties
Works to recruit and maintain relationships with other agencies for referral sources.
Additional data entry, paperwork processing, filing and other admin skills as needed.
Pass National Family Support Certification Exam within one year of hire date
Core Competencies:
Assess family strengths, needs, and child's developmental stage at intake and then every six months as evidenced by completing ASQs, LSPs, PFSs, and STAR assessment
Create SMART goals with the family based on STAR assessment, family strengths, and family priorities within 90 days of starting services and will be reviewed quarterly and updated quarterly with family
Complete two home visits per assigned family per month
Refer families to local resources based on family needs assessment
Provide case consolation with peers as needed
Maintain a basic understanding of YPN's participants' cultural and socioeconomic situation through formal and informal trainings
Responsible Work Performance Expectations
Able to work 40 hours per week
Provides professional written and verbal communications within the agency and community
Practices preventative, safe work habits
Observes all laws, safety mandates, agency expectations, and regulations
Reports all injuries and incidents per agency & program protocol
Training Provided:

Onboarding
Four opportunities for continuing education throughout the school year
Support Agency/Program Mission & Values
Interacts with youth, families, volunteers, agencies, donors, and all other visitors in a respectful, strength-based manner
Provides support to services in a culturally competent manner
Follows and models the Code of Conduct and Ethical Standards as outlined
All other duties as assigned by agency needs
QUALIFICATION/REQUIREMENTS:  College degree with educational or human services background preferred and/or a combination of education and experience, valid driver's license, basic computer skills, data entry, people skills, lifting up to 50 pounds.
FULL TIME  NON- EXEMPT STATUS.  
If you would like to submit your resume, please email Meridith Myers.
Ready to join us?
For more information about careers with YPN, please contact Tisha Ritter.
Email Tisha to apply with your resume or call 319.364.8909
CHANGE A LIFE TODAY
Many parents aren't prepared for the challenges of raising a family. Your support powers the programs that offer them hope.